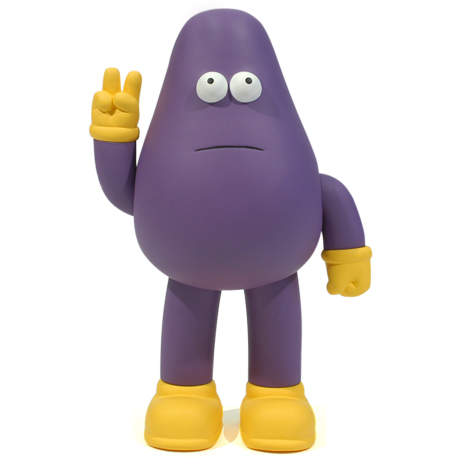 "Amos was set up in 2002 by James Jarvis, Sofia Prantera and Russell Waterman. James had previously designed toys for fashion brand Silas, beginning with the now legendary Martin figure, released back in 1998. Along with Bounty Hunter in Japan, Silas unwittingly became one of the pioneers of the soft vinyl designer toy revolution. With help from Bounty Hunter, who had already released two figures, Martin was unleashed on an unsuspecting world and the work of James Jarvis reached a whole new audience.
For the following 5 years, Silas continued to pander to popular demand and release James' designs under both the Silas banner and as part of his World of Pain project. The Silas figures were Martin, Evil Martin and Bubba, Tattoo Me Keith and The Bearded Prophet. The WoP figures were the Policeman and Lars. All of these figures have become very collectable and some trade hands for exorbitant sums on eBay. Because of the success of these figures, and to stop Mr. Jarvis selling his soul to The Man (he also produced the set of Juvenille Delinquents for the Sony Capsule Toy project), James and the two directors of Silas decided to create a new company.
Amos was set up to independently produce and distribute James' figures; to take his work out of a "fashion" context and open up his designs to a wider audience; and to develop new projects and offer new opportunities to other artists whom they had also worked with. So far Amos has released the successful In-Crowd series, King Ken, Vortigern's Machine, Tales From Green Fuzz, YOD and other assorted projects. In-Crowd is a homage to modern pop culture, each icon having gone through a Jarvisification process to produce the figures you see on this site. King Ken is nothing more and nothing less than our very own popular ape icon.
Vortigern's Machine is an ambitious project where Jarvis and Waterman have combined to create a concept aimed at older children. Vortigern's Machine and the Great Sage of Wisdom is the first installment in the story of two young friends and their epic adventures. The story is told within the form of a European style comic book published by Amos and distributed worldwide. There is also a limited collection of vinyl figures produced to accompany the book. At one time there was even talk of a TV film and who knows what else for Rusty and Wiggs.
Amos is also home for the curious Tales from Greenfuzz. Will Sweeney's story of food abuse, kidnap, pillage and general mayhem has so far spawned a handful of comic books and limited vinyl figures. A future collaboration with the Three Zero toy company should see the plastic realization of some of the more intricate vehicles from his Greenfuzz stories.
YOD is an altogether more complicated creation. Born of mathematics and existential philosophy it lives in a blank world ready to be filled with whatever Jarvis and Waterman should dictate. Each figure comes with an explanatory essay and the YODZINE serves to further expound on the myths and mystery.
Amos is also a book publisher. As well as the 'zines, comic books and the VM graphic story book, there is an A4 collection of James Jarvis drawings, and a photographic essay based on women who choose to dress in costume at San Diego Comic-Con.
In future we hope we can continue to use Amos to release more of our ideas and concepts to a wider audience, while still retaining the artistic control offered to us by virtue of running a small independent company. This is the basic essence of the philosophy behind the brand and company."